What to Consider when Painting the Exterior of your House
---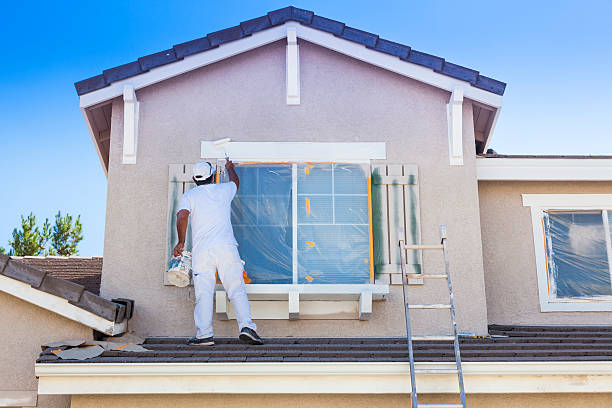 Paint degrades over time with the elements (ultraviolet rays, heat, rain), which means it will lose its color and luster quicker than paint that's usually in the shade. Darker colors will lighten more quickly than white or light colors in the sun (light colors will still bleach, it's just not as noticeable). In addition to fading, sun damage can also cause blistering, as well as chalking, which is when the surface of the paint becomes powdery and faded. I've even seen paint mold!
Acrylic latex paints are less likely to harden, blister, crack or allow mildew growth, making them a better choice. Glossy and semi-glossy paints may have a durable finish, but tend to reflect imperfections. Flat, or matte, finishes tend to become chalky and mildew-prone over the years. Satin finishes, which works well on a variety of homes and surfaces, is the preferred finish!
Quality of paint and choice of color is something else to consider. The average cost for paint alone, for the average home size of 3000 sf, could cost anywhere from $600 to $1700. Choosing a different color could add an additional 25% to the cost!
Regular maintenance will help your home hold onto its paint longer. Inspect the exterior of your home and look for signs of moisture damage, peeling and cracking. Address any damaged areas, including sealing and caulking, and you can add years to the life of an exterior paint job and add value to your home!